Couples at the University of Bern
Connected in love and friendship
Girlfriends, bound in their cramming of statistics, starting a family thanks to a degree in sports: The University of Bern is also a platform for meeting new people. Alumni and international students of the University of Bern describe what can result from this, giving us an insight into their personal histories.
Crossing boundaries together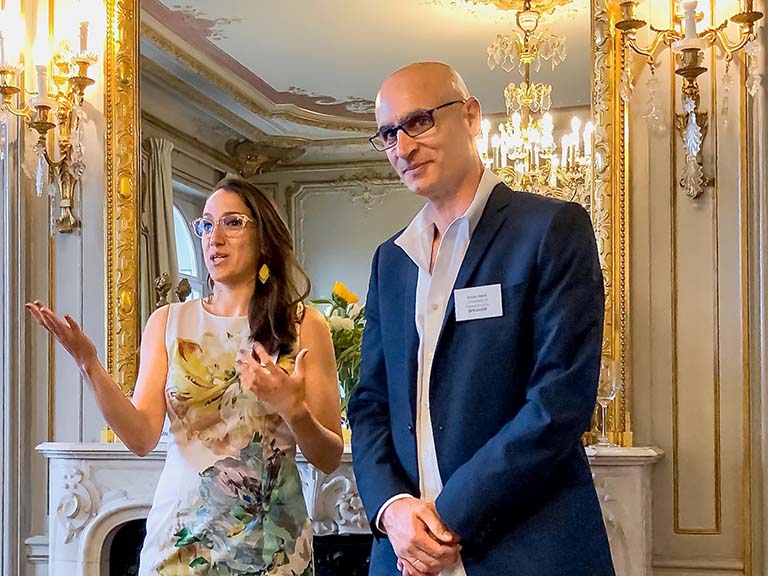 She comes from Israel, he's from Palestine – Lilach Sheiner and Omar Harb were brought together by their common interest in the field of parasite biology. They had the idea of bringing together students from the Middle East and the Maghreb in a neutral, politically free place to promote joint research and training in parasite biology. As an established institution in this field, the University of Bern was an obvious choice. This led to the creation of the Summer School (www.mebop.org), which has been surmounting boundaries since 2016 and facilitating seemingly impossible friendships.
Little Milan in Bern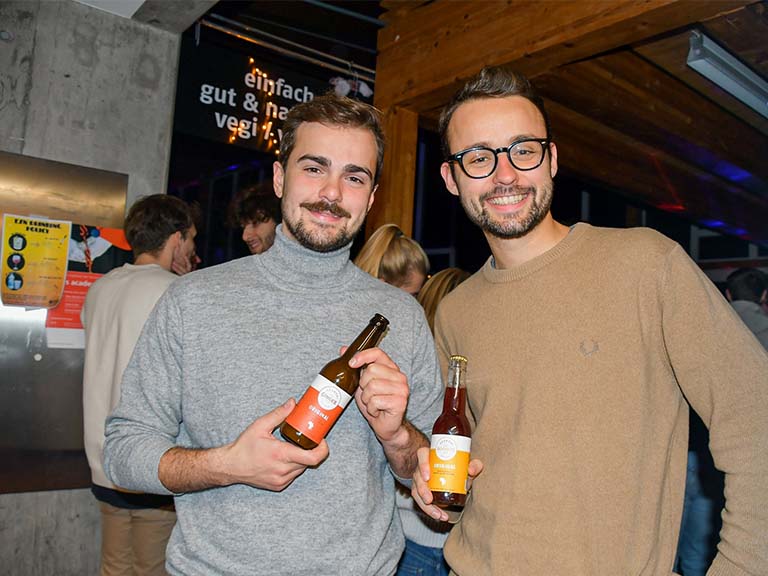 "Simone and I were both studying Biomedical Engineering at Politecnico di Milano in 2016. We knew each other by sight, but we weren't very close. Then, in September 2019, I moved to Bern to do my master thesis and also stayed for my doctoral thesis. Simone then came to Bern to do her doctorate in March 2020. The fact that we had both been in Milan and then ended up in Bern was something very special and brought us together. So the fact that we are now such close friends is largely due to the University of Bern: When Simone moved to Switzerland, I was already part of a student organization called Erasmus Student Network Bern (ESN Bern), which organizes events for international students. Simone decided to join as well. Since then, thanks to our common goal of familiarizing international students with Bern, we have done many great things together. To this day, ESN Bern is an important part of our lives, as we both play key roles in the organization – Simone is president and I am event manager. And a year ago, we also moved to a shared apartment in Bern. We are proud to say that our home has become a kind of meeting place where we have dinners and gatherings for all our friends."
A team for 30 years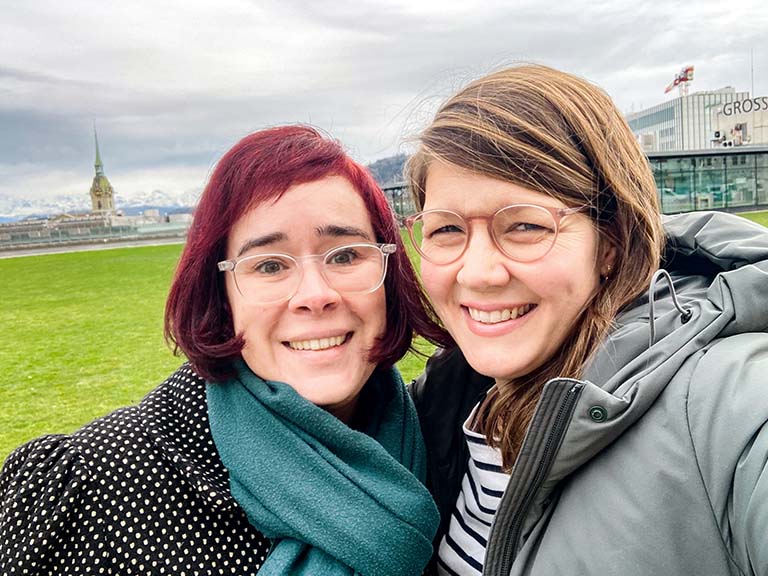 "After a circuitous route, we both studied history and English. Later, we jointly managed the internship placement office. Then Henriette went to Paris and Annie started a doctorate at the University of Bern. Now we both work at UniBE International – and continue to cultivate our friendship."
United by a love of sport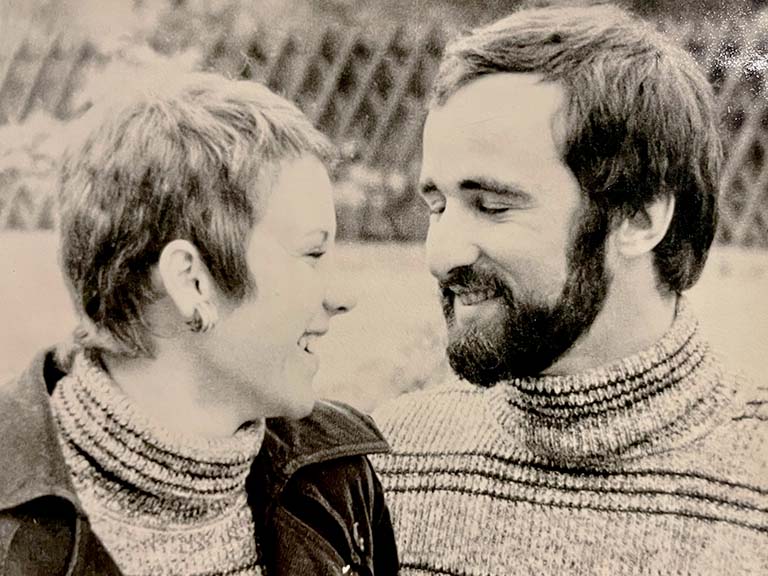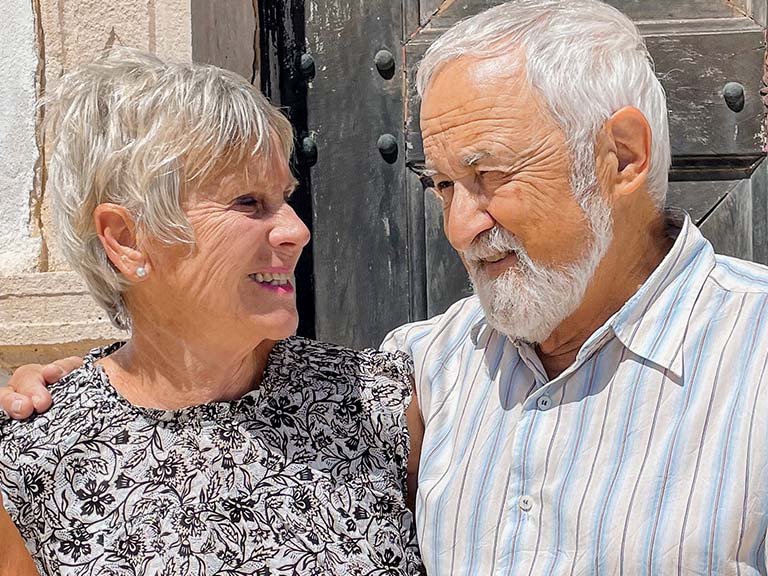 The two got to know each other at university during their gymnastics teacher diploma training. Their paths could have crossed much earlier though – after all, they both attended teacher training college, Sabina in Marzili and Michael in Hofwil. The two colleges celebrated parties together, but never both classes together. After college, Michael taught throughout the canton and joined the military. Sabina taught in Wiler near Innertkirchen and then went to England. In 1970, they both went to university. She remembers the first time she noticed Michael. Because of his military service, he started two weeks later than the others. And then he was late for the theory course! He stood out from the crowd: cool pilot sunglasses, black hair, black beard – and he drove a red MG where you could lower the roof. But no one seemed to know much about him. Then they had a two-week course in Magglingen. As luck would have it, the two of them were given the task of preparing an orienteering course. Sabina was not very familiar with compass reading, but Michael was a dab hand – the task was quickly completed and they had time to talk. Sabina quickly realized that she didn't just like Michael on the surface; his character appealed to her in many ways. During these two weeks, they spent almost every evening together and were inseparable from then on. Soon afterwards, Michael proposed to her – in 1972, at the end of their training. In October of the same year they married and started a family. They were able to celebrate their golden wedding in 2022 thanks above all to mutual trust and their principle of always giving each other plenty of freedom and supporting each other. And, of course, the University of Bern, which brought them together in the first place.
From Bavaria to Bern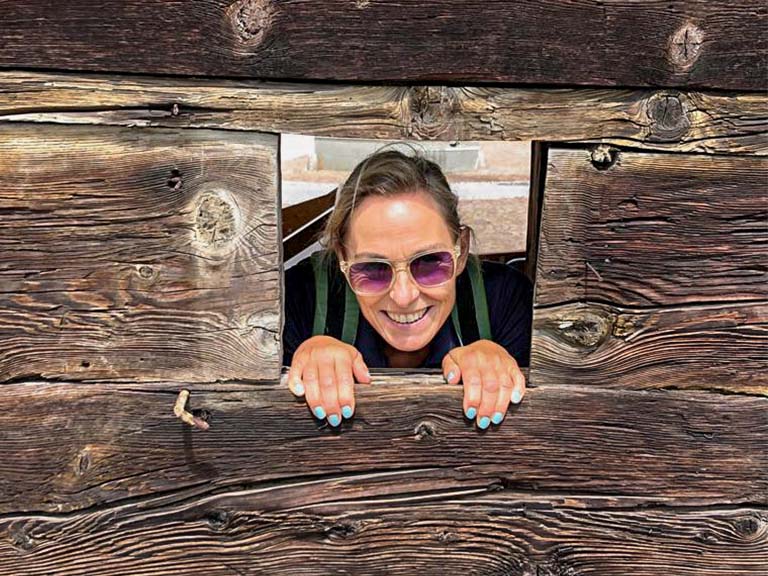 "Originally from Bavaria, I lived in Lugano, worked as a physiotherapist and had created a place for myself. But I was still fascinated by the idea of studying. In 1992 I moved to Bern to study economics and ecology having taken and passed the mandatory Swiss school leaving certificate (Matura). It was a bit of an upheaval: My partner at the time left me a few weeks before the start of the semester. I left the South with a heavy heart and moved to German-speaking Switzerland, which was unknown to me. Here I immersed myself in my studies and always sat in the front row so I didn't miss a thing. And that's where I found – older than average and as a German – my first university friend. But this wasn't to be the only friendship. Even an assistant's flirtation attempt, which I fended off, and an unexpected encounter with a sociology student, also turned into close friendships. I'm still in touch with all three of them today, and they are very important to me."
Friendship through data analysis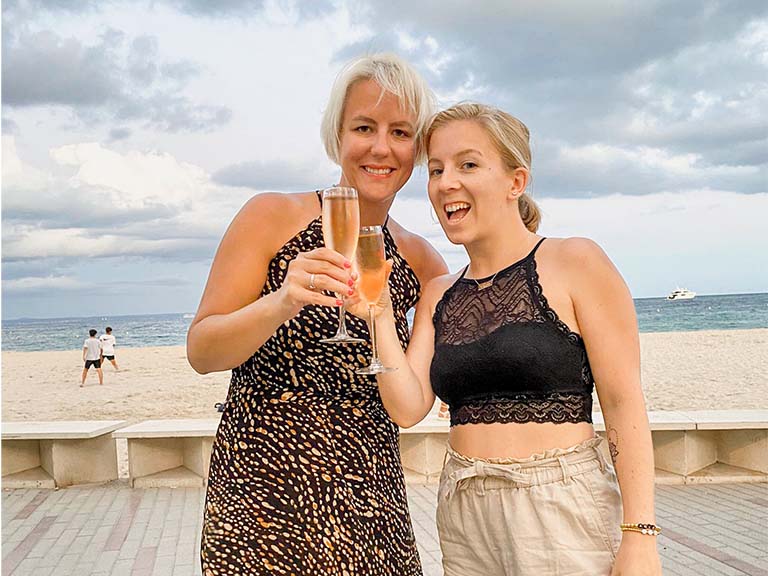 "It's actually more of a coincidence that we met. We worked in the same place, but in different research groups. Because of our common mother tongue and passion for Marianna's hometown, Turin, we got talking. The generally positive atmosphere in the office led to the idea of taking a vacation as a group. Destination: Majorca. Even though in the end almost everyone decided not to go at the last minute, canceling was not an option. So Marianna and I had a lot of time to get to know each other better. The holiday was great – we found out that we share a lot of interests. We developed a friendship that helped us get through our PhD. Especially when it comes to data analysis: During the hours of coding and analyzing, we were able to help each other a lot. We were absolutely fascinated by data analysis: In 2022, we founded a start-up with which we support researchers and students in their data analyses. Nevertheless, we do not forget to travel together once a year – a tradition of our friendship."
It's easier when you're not on your own
Verena Dellenbusch & Manuel Jann
"It all started when I was suddenly faced with doing a presentation I had planned together with Manuel on my own because he just had too much to do in the semester. Shortly afterwards, I started a new "studijob" and Manuel was the one to show me the ropes – he took me out for a beer after work and that helped me to forget about the botched presentation. But it was the master thesis that really cemented our friendship and this was crowned by our both getting a degree in March of last year."
New magazine uniFOKUS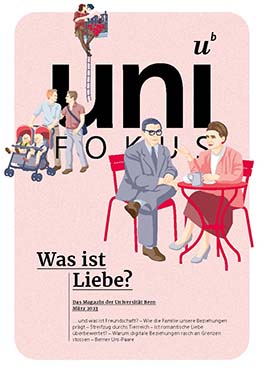 Subscribe free of charge now!
This article first appeared in uniFOKUS, the new University of Bern print magazine. Four times a year, uniFOKUS shows what academia and science are capable of. Thematically, each issue focuses on one specialist area from different points of view and thus aims to bring together as much expertise and as many research results from scientists and other academics at the University of Bern as possible.
The online magazine of the University of Bern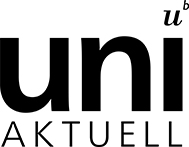 Subscribe to the uniAKTUELL newsletter
The University of Bern conducts cutting-edge research on topics that concern us as a society and shape our future. In uniAKTUELL we show selected examples and introduce you to the people behind them – gripping, multimedia and free of charge.