"The guidelines on scientific information and expressing opinions provide an outline and are not prohibitions"
In the past few days, the media and Twitter have reported on and discussed the University of Bern's guidelines on providing information and expressing opinions on social media. There, the violation of academic freedom was also criticized. What is this actually about? Rector Christian Leumann explains the context in an interview.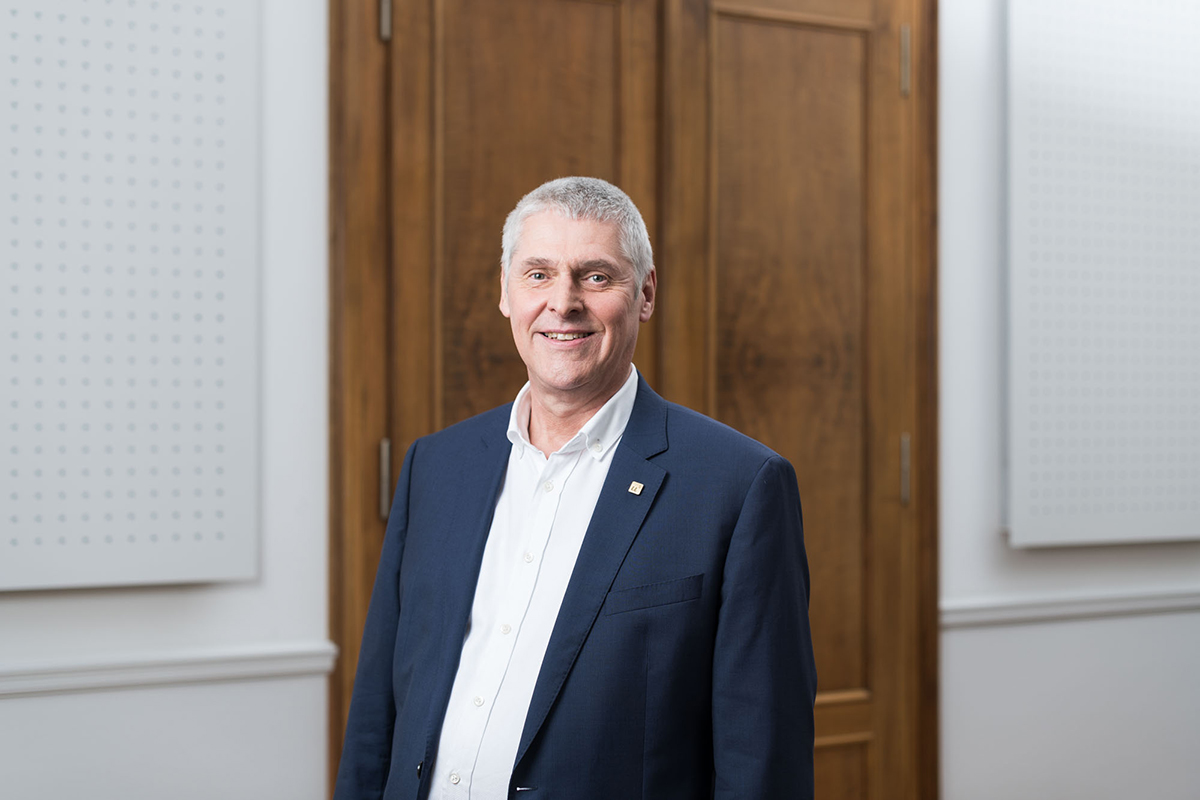 Mr. Leumann, why did the University Executive Board issue guidelines on providing information and expressing opinions?
Already years ago, researchers asked us to have guidelines on scientific communication and personal expression of opinion. The guidelines on social media and the directives regarding expressions of opinion by university employees have been in place since 2013 and 2008, respectively, and are published on the University's website under the regulations for Human Resources (in German). Against the background of recent inquiries to us about how sensitive information, for example on the subject of COVID, should be handled on social media, the University Executive Board has now summarized these basic principles, embedded them in an outline, and updated them.
Are such guidelines unique to the University of Bern?
No, to my knowledge similar guidelines exist at most other universities. However, the University of Bern is probably the only Swiss university to date that formulates its guidelines in such detail.
Now there have been some fierce reactions to the guidelines. Are you surprised by this?
Yes, I was somewhat surprised, especially because these are not new regulations, but an update of the existing ones. It is possible that the parliamentary proposal to muzzle the Federal Council's COVID Task Force, as well as the "cancel culture" debate, have greatly sensitized the general public and researchers to the issue of how to handle research results and expressions of opinion on social media.
One accusation that has been voiced is: the guidelines violate academic freedom, and the University of Bern puts fiduciary duty above academic freedom. What is your position on this?
Academic freedom, which is constitutionally enshrined, protects the selection and method of subjects of research, the interpretation of results obtained, and their communication. This is of course absolutely unrestricted and is not affected by the guidelines. Opinions on debates outside of one's own research activities, on the other hand, are protected by freedom of expression. In this context, employees are obliged to safeguard the interests of the University of Bern in accordance with Article 55 of the Personnel Statute of the Canton of Bern (German only).
However, the guidelines also state the university's responsibility. It states, for example: "The University is a place where differing opinions and views are seen as enriching and a basis for new discoveries." It promotes an international view and requires tolerance of other opinions and approaches.", and "In its information activities, the University strives for balance and the most effective possible dissemination of academic findings." With the very best of intentions, I can find no violation of academic freedom here.
So what does this mean for scientists and scholars?
The Internet and social media are not lawless spaces and therefore require care in their use. If scientists contribute on the basis of their own research results or scientific expertise in their own field, this is absolutely desirable. The guidelines are concerned with distinguishing this from situations in which researchers do not express themselves on the basis of scientific expertise in their own field. Of course this is also possible, but the researchers should declare this as a personal expression of opinion.
What does this mean in concrete terms?
The line between whether someone is expressing themselves personally or scientifically is not always clear and also, is essentially interpreted by the reader. Nevertheless, there are a few simple principles that can help to clarify: For example, the Twitter bio of a researcher who expresses opinions outside her field of expertise should say something like "Views expressed are my own," or one should write in a post "In my opinion,..". Furthermore, one should not use university channels such as social media accounts of institutes for the expression of private opinions.
Doesn't this prevent exchange between politics and academics?
The guidelines do not prevent anything, nor do they prohibit any opinions. We have also never interfered with the communication of our researchers. What we are doing however, is using this to remind people of the general conditions.
How does the University Executive Board envision an appropriate way for science to be communicated to the public, if not via social media?
Social media should play a role in this, there's no question about that. However, we believe that Twitter is not necessarily suitable for adequately reflecting complex issues and contexts or for discussing them in depth. On Twitter, there are systemically inherent limits to well-founded scientific discussion.
You're referring to the fact that the public is only informed in fragments on social media and that researchers have a responsibility here. Could you explain that a bit more?
When researchers comment on current issues such as COVID-19, for example, they have to be aware that their statements can generally trigger controversial reactions in the public. Therefore, corresponding care should be taken in communication. Researchers must and should inform the public about their findings - absolutely. But they must also inform the public in such a way that they can classify the research and understand its significance, and not in such a way that misunderstandings and uncertainties arise.
The guidelines state that "Academics in a particular area or institute should therefore first hold a debate amongst themselves and any subsequent external statements should at least be coordinated to some extent." Isn't there a danger that certain results will no longer be discussed?
No, we are not talking about our own research communication. This is protected by scientific freedom. But if researchers express opinions on topics that are not based on their own research results, and if, for example, several different opinions - not research results - from the same institute are made public, this can be misunderstood and misinterpreted, lead to uncertainty and thus also damage the reputation of the University. Most researchers, incidentally, are aware of this and communicate in an exemplary manner.
If most of them do this in such an exemplary manner, why do we need these guidelines at all?
The directives arose from an internal need back in 2008. At the time, there were situations in which the behavior of researchers raised questions among other researchers at the university. That's why the University Executive Board formulated guidelines. The current version is again a response to internal requests. The University is an organization of experts, so there are always people who are disturbed by internal regulations. For many, however, they are also a welcome and desired guide, as much positive feedback also shows.
Looking back, would you do anything differently?
I don't see anything about the guidelines themselves that fundamentally conflicts with the liberties and values of our university. However, the sizeable reaction in the media shows that we have not succeeded in adequately communicating the contents of the guidelines to our researchers. We need to work on this. We are therefore giving our employees the opportunity to clarify any unanswered questions internally.
About the author
Christian Degen is director of Communication & Marketing at the University of Bern.