Vice-Rectorate for Quality
"I wanted to take steps in sustainability and equality"
Silvia Schroer has been Vice-Rector for Quality at the University of Bern for six years. On July 31st, she will hand over her position to Heike Mayer. For uniAKTUELL, she looked back on her work as Vice-Rector.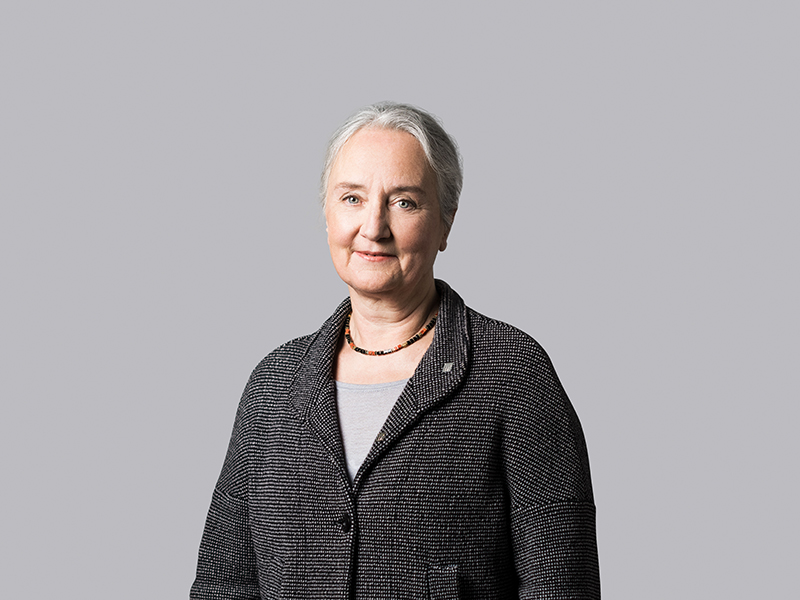 Six eventful years - it is difficult for me to look back already, still with one more month to go. Important memories come from the orientation phase at the beginnning, such as a large meeting in Oberhofen on Lake Thun with all the staff of the Vice-Rectorate for Quality (VRQ), which my predecessor Doris Wastl-Walter had organized so that those responsible could present their work to me. I was very warmly received as the new boss in the VRQ, and at the same time I was like an apprentice in some areas. My entire term of office has generally been characterized by great team spirit and appreciation of eachother's work.
Many, many encounters with people and a myriad of projects both large and small will stay with me. It has been tremendously enriching to experience the University of Bern so closely and on all levels. I have been a professor of theology since 1997 and I had already made many inter-faculty contacts before leading the Vice-Rectorate. Faculties, centers, central administration, students, assistants, professors - a university is a complete universe. But difficult times also linger in my memory, especially around the months of COVID, which unfortunately also included an important phase during the University's accreditation.
I will never forget the message from the Rector at the beginning of July 2018 - I got off an ICE train in Basel and had just switched my cell phone back on – and read that Daniel Odermatt, whom we had happily seen off a few days earlier before his vacation, had died. That was terrible, on a personal level and also professionally, because an Administrative Director cannot be replaced so quickly.
The biggest challenge was the accreditation
Of the tasks given to me, the accreditation of the University, which came to a very happy conclusion in 2021, certainly carried the heaviest weight. The challenge was to do everything necessary so that we could establish a solid foundation, build a lasting structure, and of course also produce good results. It had to start with a bit of "airing out" and confidence-building first, because there had also been frustrating experiences with audits and evaluations in previous years.
On the part of the Vice-Rectorate, we did everything in our power to ensure that a university-wide culture of quality development was established and that all employees in all areas were trained in an awareness of quality assurance and quality development (QSE). As the ones responsible in the Vice-Rectorate for Quality (and Research), we saw ourselves as the pilot boat, leading the way for a huge ship. At the next accreditation, the University will be able to go full speed ahead with a strong ship.
Great progress in equality and equal opportunities
One achievement of my term in office is certainly that the Vice-Rectorate for Quality has grown together during these years; the three areas of quality development, sustainability, and equal opportunities no longer stand on the side as departments, but are on the move together. Internally, this means progress, and is a win-win situation for everyone.
"One accomplishment of my tenure is certainly that the Vice-Rectorate for Quality has grown together over these years."
Silvia Schroer
Our university has made considerable progress in securing equality and equal opportunities. A lot has happened since 2017. For example, measures have been taken to promote reconciliation, and oppose discrimination. When I started in the Vice-Rectorate, the temperature was taken almost weekly, so to speak, because there was a low overall appointment rate of female professors, especially in certain faculties. Public interest in statistics, numbers, and curves was high. So, the focus turned to motivating and equipping young female scientists for an academic career after their doctorate. This was and is a shared goal, a top priority for all Vice-Rectorates. I regretted that the University as a whole did not take up the "Better Science" initiative, even though so many people and institutes were behind it.
"I am proud that the University of Bern has set itself the goal of climate neutrality by 2025."
Silvia Schroer
I am also proud that this university, which has long contributed so much to international research in climate and environmental science, has set itself the goal of climate neutrality by 2025. From the reduction of emissions to the issue of real projects which off-set emissions, it is doing everything it can to achieve and then sustain this practical goal. The University of Bern is quite far ahead of the rest of Switzerland and even internationally in Education for Sustainable Development, and we have been able to strengthen cooperation among other Bernese universities. I would like to have achieved more operationally implementing some goals. The implementation of a required double lesson on sustainable development in study programs is still only limping along after 6 years.
I am particularly pleased with Compass, a university preparation course for refugee students, which is initially planned as a two-year pilot with financial support from the Canton and the State Secretariat for Migration. It will start for the first time in August 2023 with 20 people, mainly from Ukraine and Turkey. It involved close cooperation between the Vice-Rectorates of Quality and Development. It is fitting of the university to commit itself to qualified refugees, as its own history and development is based in part on the achievements of migrants and refugees. I am pleased that this commitment is so strongly and explicitly shared in all universities.
More women in the University Executive Board
Like my predecessor, I was initially the only woman on the University Executive Board. There was always a great deal of acceptance, and I very much appreciated the fact that the goal of equality and issues surrounding it were not only delegated to me, but were shared and supported by all members of the board. There were sometimes divergent views as to which path to the agreed goals was the wisest one. I often had to be patient, although patience is not one of my virtues.
"The goal of equality was shared and supported by all members of the University Executive Board."
Silvia Schroer
The dynamics in the committee changed, of course, when a second female Vice-Rector joined. Of course it matters when two women in such positions can collaborate on important issues. However, there were several personnel changes in the University Executive Board during my tenure - and each change, male or female, had an impact on dynamics, alliance culture, communication, perspectives, and priorities. Two years ago, I was very happy to no longer be the only woman, because it is a role I have had and been forced to accept throughout my life in all my professional engagements. But it is not normal or healthy. With the election of my successor and the election of Virginia Richter as Rector, starting in summer 2024, there is still room for improvement as far as equality within the University Executive Board is concerned, but the foundation is now solid. And H.I.T., the training program organized throughout Switzerland for female academics interested in leadership roles, is also yielding clear results.
Professor, theologian, researcher, and Vice-Rector.
As a member of the faculty, I had to cut back a lot, I only had a few courses and I resigned from all faculty committees to avoid bias in my dual role. As a result, contact with students and colleagues naturally become thinner over time. I would have liked to have had more time and energy for conference visits and other work in the Sinergia research project, which I have been collaborating on with colleagues in Zurich, Bern, and Tel Aviv since 2020. I will continue to be involved in this until the end of this year. The compatibility of tasks, not only managing the time, was always a requirement for me. After a day full of committee work, studying documents, conducting greetings, attending openings and events, and all the emails, my head was no longer free for writing or even reading technical literature, preparing a talk, or planning a seminar. It helped that I concentrated my in-person time at the H6 university administration building as Vice-Rector in the afternoons. That was something everyone could remember. Being there in-person was important to me. People are social creatures.
"There were big crossovers between my identities as a theologian and as Vice-Rector."
Silvia Schroer
Despite the demanding work and some bottlenecks, I think it is good that there is a concept of Vice-Rectors at the University with a 50 percent work load, because it supports a reciprocal agreement between professorship and administration. Decoupling these would entail dangers, not only because of an ungrounding of the governing body, but also for the career development of people who take up such a position. The possibility of returning to the discipline and to research is not possible after a prolonged and complete break from academic activity.
But there is something I would like to emphasize here. For me, there were great crossovers between my identities as a theologian and as Vice-Rector. This may come as a surprise, but it would have been bad if there had been a total split between the two. I applied for the Vice-Rectorate because I wanted to take concrete steps in equality and sustainability in university politics, which is important to me as a citizen and theologian. I wanted to set out for new horizons. It is a privilege to be given the opportunity to do this at almost sixty years of age, without having to burn all the other bridges behind me.
"Beliefs which are only believed, – without action, are as irresponsible as knowledge which is only known – the mere collection of data."
Silvia Schroer
Through the interdisciplinary contacts in the last years I have learned a tremendous amount - and discovered surprising things, for example the prevalence of discourse on the priority of orthopraxy (rather than orthodoxy) that played a role in my theological training and on the current discussions about the application of science in transformation. Beliefs which are only believed – without action, are as irresponsible as knowledge which is only known – the mere collection of data. And one more thing: standing up for quality is part of our academic passion. We have the highest standards for ourselves and others in our field. When something is "very good" and thus acknowledged and recognized, it motivates and releases new creativity. The creative makes us feel alive. As a Bible scholar, I like to refer to the first account of creation in the Book of Genesis – the creation of God's works is certified with a seal of quality, they were called, "good", and everything that was created was called, "very good", altogether. A seal of quality is not a cheap glue – it represents the adoption of and identification with what has been determined to be good or very good.
Challenges for the university in the future
Universities operate under the pretence of growth. The importance of rankings or comparative statements about more student numbers and more third-party funding still play a huge role, and carry the danger of ever increasing speeds and constant overheating, which has nothing to do with healthy competition or quality. Development is indispensable, but in my opinion it must also be possible without growth, or at least be considered in this way. The semesters during COVID showed that we can do this. During the crisis, ensuring quality was a priority everywhere, even though many opportunities in teaching, research and elsewhere were reduced and limited.
"Development is indispensable, but it must be possible without growth, in my opinion."
Silvia Schroer
A university houses outstanding research facilities and think tanks. It seems important to me that universities themselves fundamentally uphold the requirement of helping to steer social development and not just implementing or following along with, or running after what other forces, such as corporations, technology, and digitization, bring us. From a university's point of view, COVID and a war in Europe may have been considered fate, the effects of which we must simply submit to, and which we try to cope with. But there are issues and developments for which I sometimes miss the, "no", which would be more politically responsible. Universities, especially their management, but also the teachers, must not allow themselves to be functionalized - because they will be jointly responsible not only tomorrow, but also in twenty or a hundred years for everything that happens today under their roof, that is decided, promoted or participated in, that is said or not said.
Universities are faced with the task of reviewing their structures which have been established and entrenched in history – not only the micro structures, but also more fundamentally. A single university has limited space to maneuver in this regard, for example, to create or abolish a new faculty, to set research priorities. Actually, the task - nationwide and internationally - is an educational and overall political task. What worries me as a theologian and thus a scholar of the humanities, is the question of whether disciplines that are of undeniably high value and benefit to society, but do not bring in huge sums of money or headlines, will endure and be supported and remain at the forefront of the sciences, or whether they will only be allowed to carve out a niche and be given charity until they are used up and worn out. We are promoting diversity and equal opportunities in every conceivable area - but internationalization in fact leads to a reduction in diversity, like when, in many research fields, national languages die out.
Vice-Rectorate for Quality
The Vice-Rectorate for Quality supports the members of the University in the promotion of equal opportunities, an anchoring in sustainable development, and quality assurance and development.