Prevention
Gaming for health
Mike Falkner develops video games for older adults with the aim to train memory and fine motor skills – and thus help prevent diseases such as dementia and Parkinson's disease.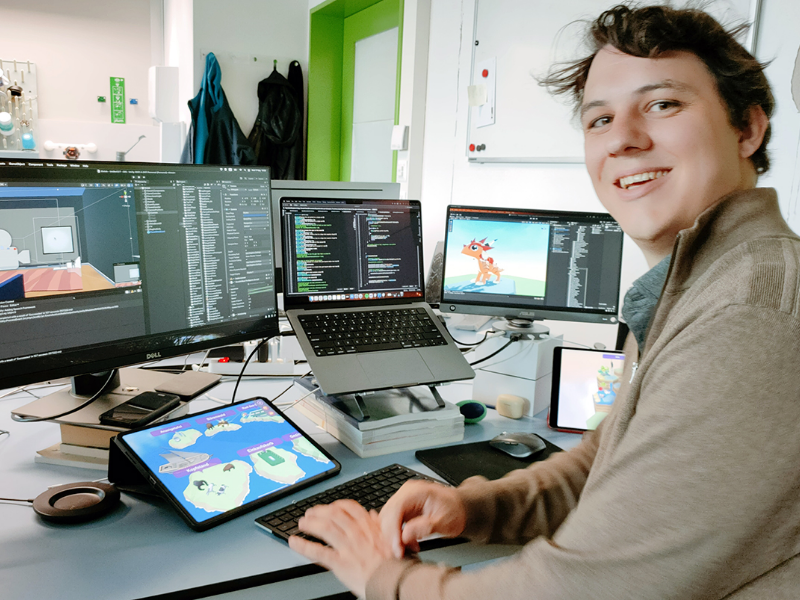 How does a native New Zealander who studied game design and worked in the film industry for several years become part of research teams at the ARTORG Center for Biomedical Engineering Research of the University of Bern and the Bern University Psychiatric Services (UPD)? "Video games have a great appeal for most people. I want to use this to do something useful for society", says the 32-year-old.
Scientifically sound foundation
When I first meet Mike Falkner in his office, he is surrounded by a fair number of smaller and larger screens. But he doesn't strike me as a stereotypically introverted nerd. He proudly presents me with an application for which he is developing 16 different memory trainings that train semantic, spatial, episodic and working memory.
The online magazine of the University of Bern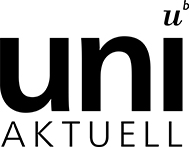 Subscribe to the uniAKTUELL newsletter
The University of Bern conducts cutting-edge research on topics that concern us as a society and shape our future. In uniAKTUELL we show selected examples and introduce you to the people behind them – gripping, multimedia and free of charge.
Unlike many memory training apps already available today, the apps Falkner is developing with Esther Brill, who is pursuing a doctorate in geriatric psychiatry at UPD, are based on solid neuroscience research. "There are a few really high-quality games on the market that detect biomarkers for Alzheimer's, for example, and thus contribute to the fight against this disease – but most of them are commercially motivated", reveals Falkner. "Being able to do game development from a scientific standpoint is extraordinary." Currently he works on five game design projects, most of them in the field of cognitive training: "Three for tablets, one for the computer and one for smartphones."
From C as in 'controller' to Z as in 'zoo'
Sitting at the neighboring table is Nic Krummenacher, who is writing his dissertation at the ARTORG Center's 'Gerontechnology and Rehabilitation' research group. Falkner is working with him on a smartphone app to improve fine motor skills in Parkinson's patients. The device is operated using a specially developed silicone egg equipped with tiny pressure sensors. "The sensors are intended to tell us which fingers are giving the respective patient the most trouble," explains Krummenacher.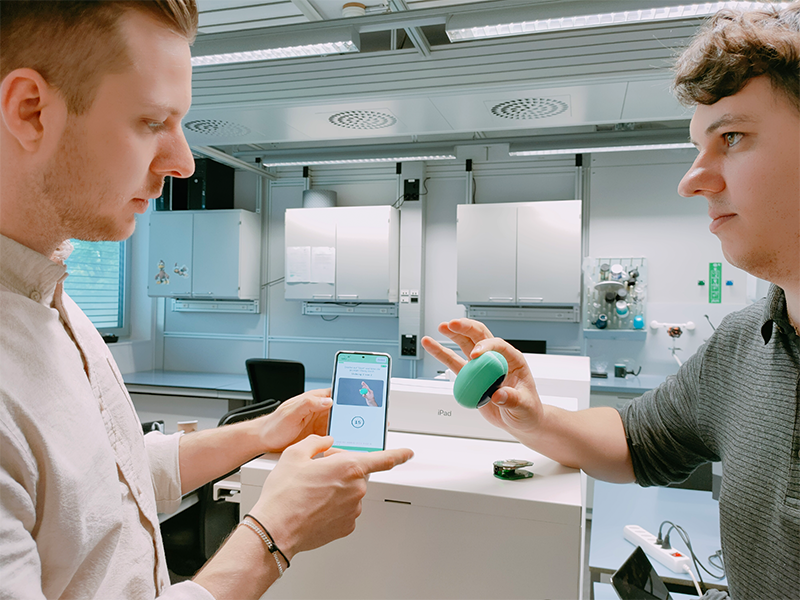 I am invited to test the prototype of the motor skills training app and quickly discover: In three of the four games, it only takes very small movements from the wrist for my geometric shape to land in the right orientation in 'Tetris' or for my ball in the maze not to instantly disappear into one of the many holes in the floor. "We deliberately chose this sensitive navigation, because with the onset of Parkinson's, large movements usually still work well, but small targeted ones are no longer well controlled", explains Krummenacher.
«I like to develop video games that are not only fun, but also useful.»
Mike Falkner
After attempts in the motor skills app, I turn back to brain training on the iPad. It's not easy to get bored here: Users can choose whether they prefer to go shopping, on safari or on a treasure hunt, take part in a quiz show with others, solve crossword puzzles or find their way around a rotating matrix. With all the animals, the games remind me of a visit to the zoo, I think as I hunt for rabbits in the garden and photograph bears in the forest.
Noticeable improvement in quality of life
Esther Brill explains to me why all this makes great sense scientifically: "We have developed these trainings for older adults who are at risk of dementia or who have already been diagnosed with it. Our goal is to delay or mitigate cognitive decline as much as possible with these serious games."
«Our goal is to delay or mitigate cognitive decline as much as possible.»
Esther Brill
According to recent surveys, computer games are becoming increasingly popular among those over 50. And they're no longer just Sudoku, Mahjong or Solitaire. For many, having small achievable daily game goals, together with the entertainment factor, are good incentives to keep playing. Naturally, the games themselves also have mechanisms to keep users engaged, Falkner knows: "During my studies, I learned the tools for these so-called game mechanics. These are found in every video game and are important to the gaming experience."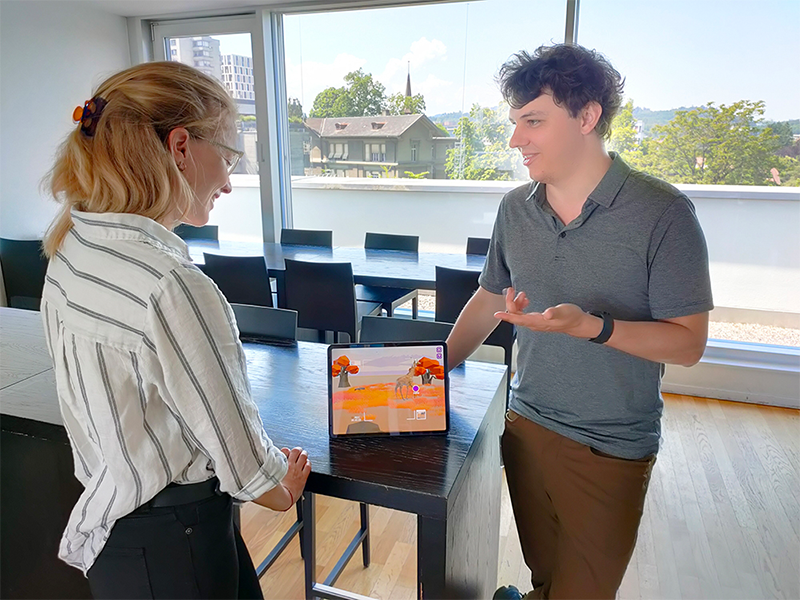 And apparently Falkner uses these mechanics cleverly for his games: "We have had a lot of positive feedback from the clinical trial, which I am quite proud of. Patients would often ask if they could download the games and continue playing." Not only did the test participants get accustomed to the games, Brill adds, but they also reported feeling an improvement in their quality of life and cognition during the several months of training.
From the Aare out into the world?
Outside his daily research routine, Falkner has settled into his new adopted home in Bern. He finds diversion in mountain biking through Bremgarten. "I had heard about developing games with a health benefit before, but never dreamed that you could work full time in this profession. I like the academic environment, the possibility to explore and test," Falkner says.
Meanwhile, Falkner's games have also attracted attention outside Bern. He collaborates in research projects with ETH Zurich and universities in England and France, who are planning to use the games for their research or have their own game ideas they would like to implement. So, will the Bernese game collection become an export hit? "I'd love to see these games exit the lab and be something useful. Anything that can help to improve cognitive, or motor skills should be included in your routines and habits", says Falkner.
For now, I am a little disappointed to have to hand back the tablet with the 16 games. Even though I'm (hopefully) not showing any early signs of dementia, I wouldn´t mind gaming for just a bit longer.