University
Focus on the future of the university
The University of Bern prepares for the future: Rector Christian Leumann and Administrative Director Markus Brönnimann shed light in an interview on the challenges facing the university in the future and how the "Fit for Future" program intends to tackle them.
The "Fit for Future" program focuses on the future of the University of Bern. What do you personally see as the biggest challenges we will face in the next ten years?
Markus Brönnimann: One issue that cannot be solved very quickly and will therefore occupy us for a long time is the increasing scarcity of space. Finding a sustainable solution for this is key. We must also provide access to international networks in research and teaching and maintain our attractiveness as an employer. These challenges require lean but effective structures and consistent implementation of the Strategy 2030.
Christian Leumann: Digital transformation will be one of the major challenges of the next ten years. This transformation will change essential elements of teaching and research in a relatively short time. In addition, the cooperation with other universities in Switzerland will be necessary in order to survive in an international context. It is important that the University is internationally networked in order to be able to offer solutions to global challenges such as digitalization, climate change, and health issues at the highest level.
Where does the University of Bern stand in this development? Do we have some catching up to do in comparison with other universities?
Leumann: The University of Bern has been in existence since 1834, and we have been operating as a relatively structurally conservative institution ever since. Our organizational form has remained largely the same, while through education and research we have contributed for our own world, as well as the world around us, to evolve. This gives rise to a need for action. However, we are not alone in this. Most universities in the world face similar challenges.
«We are not alone in facing the challenges of the future. Action is needed at most universities around the world.»
Christian Leumann
Last summer, the "Syntegration" project was launched with around 40 people from all faculties, intermediate staff and students from the University, and external stakeholders from administration and politics. The program is now entering the next phase under the new name "Fit for Future". What has already happened and what are the next steps?
Leumann: First of all, I would like to emphasize that we are not acting out of a crisis situation, but rather launched the project out of intrinsic motivation. We considered how we want to position ourselves with regard to the current challenges and what we can improve in the future. The fields of action defined in the project are not new. But they are being pooled for the first time and viewed from an overall perspective. Now we want to embark on an operable path that will be developed together with faculties, institutes, researchers and employees. This is a joint project, not a decree "from above".
Brönnimann: That is why up until this point priority was given to organizing a program with clear responsibilities. Last summer, twelve important fields of action were identified that are important for the future of the University and to which commissioners and project managers have now been assigned. Work is already under way on many topics. With a kick-off meeting with all project managers in May, we want to once again emphasize the common goal and connect the topics.
"Fit for Future" deals with fields of action such as "digital transformation", "University structures" and "new workplace concepts" – but that sounds like a complete renovation of the University. Are there any specific measures or projects already in place in these areas?
Leumann: None of us know what the University will look like 50 years from now. We are evolving and the path will be part of the solution. The challenge now is to find ways of dealing with changing conditions and helping to develop them. Projects that have already been initiated in this direction are not to be stopped, but further developed. This will lead to some adjustments in the coming years, such as the design of the workplace of the future, which has already begun. However, it is also important that we become aware and prepare ourselves for the fact that things will not be the same afterwards as they were before.
Brönnimann: An organization is most effective when you just let it do its job. A complete renovation is therefore neither helpful nor sensible. However, where there is potential for improvement, we should realize it.
Digital transformation is already underway through UniBE's "digitalization strategy". What else exactly is happening now as part of the "Fit for Future" program?
Brönnimann: When something is already in motion, it doesn't mean it's moving fast enough. In other words: We must now ensure that it is implemented successfully. At the academic level, we want to implement the "People in Digital Transformation" approach. This allows us to leverage the strengths of a comprehensive university. The aim is to facilitate research and teaching projects that address the topic in a way that achieves international recognition. On the administration side, we provide suitable infrastructures. To this end, the digitalization strategy includes measures in 16 fields of action. In the "Fit for Future" program, we ensure the necessary coordination with the other topics.
«If something is already in motion, it doesn't mean it's moving fast enough. We now need to ensure successful implementation.»
Markus Brönnimann
Leumann: The digitalization strategy has two aspects. On the one hand, there is the IT architecture side, where we do not act entirely on our own. This also depends, for example, on the interfaces with our partners such as Inselspital, or the canton, which each have their own IT infrastructures.
The second aspect is the question of how we as people generally embrace digitization in teaching, research and operations and how we can shape it. We are facing challenges in the field of artificial intelligence and need to prepare ourselves for how we as a society deal with them. These questions are strategic, have an impact on teaching and research, and are addressed in "Fit for Future".
Digital transformation also requires a change in employee behavior. Are there any packages of measures that not only actively empower employees, but also promote a rethink in the context of digitalization?
Brönnimann: One of the 16 fields of action within the digitalization strategy is the digital empowerment of employees. In this, we also want to encourage them to rethink. Digitalization will also have consequences across hierarchies. This is because competencies are broadly diversified and not only available among management personnel.
Leumann: Digitization means cultural change, not only in the work environment, but also in the private sphere. The introduction of digital transformation and corresponding behavioral change at the university will therefore not just be a university idiosyncrasy. Our employees feel the changes on both levels and are prepared for them differently. We must therefore try to take them along with us on this journey and incorporate the resulting insights into the structural and operational side of the university.
Brönnimann: In summary, it can be said that digitalization has three levels. Firstly, the infrastructure level: Everyone gets a work laptop, the phone disappears from the desk. This infrastructure must then be applied, in teaching, research and also in administrative activities. The third level is, in my opinion, the most important: These skills must also be taught. Students and researchers must be empowered to lead digital transformation projects, to see the topic as a field of research and to contribute to society by providing answers that society does not yet have.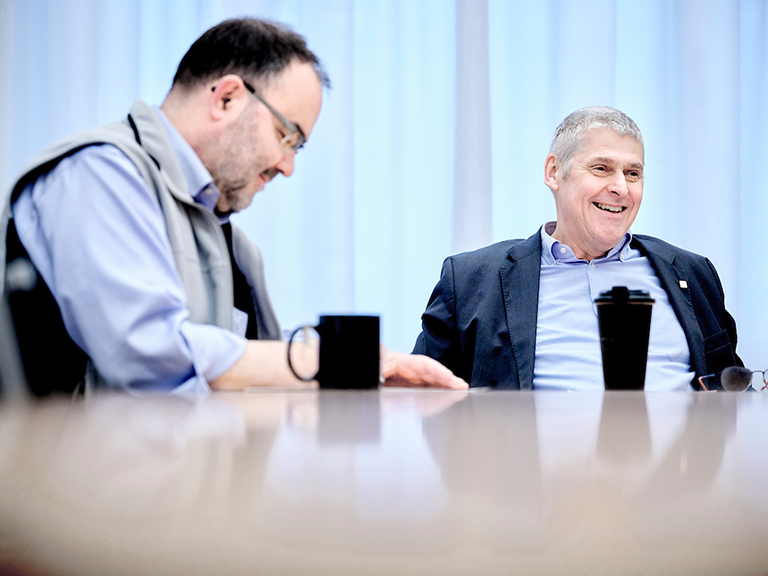 In the "Rethinking University Structures" field of action – this is the result of the workshop – "pain points/places where there is sand in the gearbox" are to be addressed and changed. What exactly does that mean?
Leumann: Take the example of cross-faculty professorships: inter- and transdisciplinarity is something that is becoming increasingly important in cutting-edge global research. We already live this in our strategic research centers. However, we are finding that transdisciplinarity outside of the centers requires complex, cross-faculty coordination. When we hire new professors who work in both medicine and physics or computer science because their research orientation requires it, we don't have a "home" for them; they split between two faculties. But the faculties are basically structurally independent of each other and work according to their own criteria. This is a challenge for those involved. We have to find good, sustainable solutions so that in the future the academic areas are not hindered by unnecessary barriers to focus on teaching and research.
Brönnimann: Another problem is that academia is faced with a steady increase in administration. Moreover, if the organization is highly fragmented, this problem is exacerbated. We need to free teachers and researchers so that they can resume their core activities. Nevertheless, we must ensure that we have professional and functioning structures to run and develop the University. There is also the question of how positions in academic self-government should be filled. The focus is primarily on the term of office, which today is probably on the lower edge.
Numerous people have already been interviewed as part of the "Rethinking University Structures" field of action. Who was taken into account and are there already some initial results?
Brönnimann: Every position that exists at the University has been taken into account, from members of the University Executive Board to deans, heads of departments and institutes, administrative specialists, people with management support responsibilities and many others. Respondents were selected by the program's expert committee. All faculties, stands, students and administrative-technical staff are represented in the expert committee.
Leumann: We also want to take a look at other organizations. The first step is to visit other universities at home and abroad that are in the process of transformation or have undergone a transformation. We don't want to reinvent the wheel, we want to find "best practices" that we can use as a guide.
Speaking of organizations abroad: To what extent will the program take into account the impact of the changing global political landscape on the University's research, and what measures will be taken to ensure the University's continued success in this context? And how will further developments, such as UniBE's involvement in the ENLIGHT alliance, be incorporated?
Brönnimann: As far as research is concerned, the field of action is referred to as "Research in an International Context". Colleagues working on this topic should therefore take this aspect into account prominently. However, no specific measures have yet been devised in this field of action.
Participation in the European university alliance ENLIGHT was decided only after the workshop last summer. The consequences and opportunities of this step must now be incorporated into the program. I assume that this will be done in the relevant fields of action, and we will keep an eye on this aspect. ENLIGHT is very important, and we want to make sure it is incorporated.
«As a result of ENLIGHT, there could be personalized degree programs in the future, not only classic bachelor's and master's programs.»
Christian Leumann
Leumann: In principle, ENLIGHT is an alliance of universities that focuses on the mobility of students and lecturers as well as shaping the teaching of the future. The program will also have a research component, since a university placing great emphasis on research will have to align teaching with research. As research progresses, teaching must also keep pace. This applies mainly to academia. With "Fit for Future", it is therefore necessary to identify the areas in which ENLIGHT plays an important role, especially with regard to teaching and research. However, if interdisciplinary teaching becomes more important, University structures will probably also be affected.
One consequence of ENLIGHT could be that in the future we no longer offer only classic bachelor's and master's programs of today's design, but that there could be personalized degree programs, presumably especially at the master's level, in which students acquire individually compiled competencies. These are no longer limited to individual faculties, but contain elements either from two or three faculties, or from other universities in the ENLIGHT Alliance. Basically, these university alliances are real laboratories in which the next education reform, let's call it Bologna 3, is being prepared. We really want to be part of this, so that we don't have to face a fait accompli later on.
These 12 fields of action of "Fit for Future" are highly interdependent or interlinked. How do you ensure that different directions are not followed here?
Brönnimann: "Fit for Future" is commissioned by the Rector. All those responsible for the individual fields of action are accountable to him. The various measures and projects in the twelve fields of action are implemented with the greatest possible autonomy and the corresponding autonomous speeds. As a result, things are likely to progress more slowly in terms of the lack of space than when it comes to digitalization. But there has to be some coordination: Twice a year, we will report on the project at the University Executive Board retreat so that coordination can take place across all fields of action. Finally, a program coordinator ensures further implementation with simple but streamlined reporting.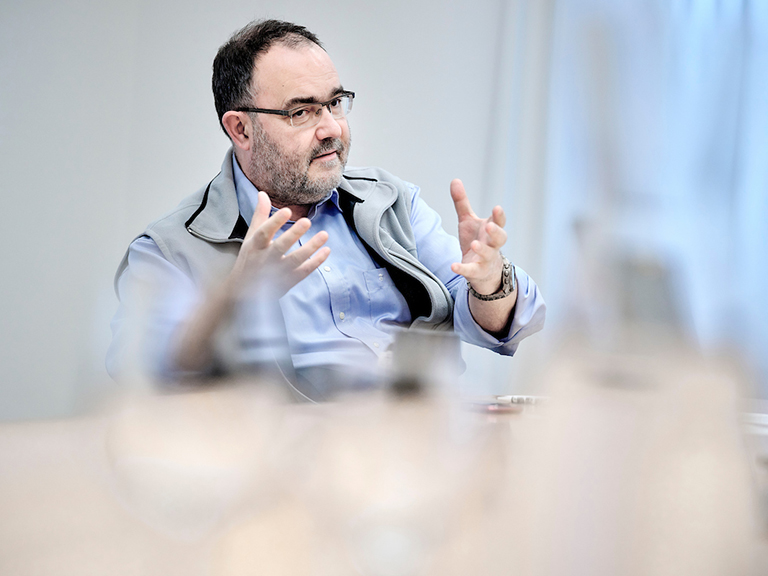 The time horizon for the program is two years. Will the project be completed by then?
Brönnimann: This means that after two years we will stop coordinating and reporting measures and look at where further measures are needed to ensure long-term success. The program will be finished in two years, but the work will not. The program stimulates the topics covered so that they are on the right track. 
Leumann: There will be a certain "constancy of change" over the next few years. First, we want to define the problem areas, find options for action and bring them to the table over the next two years. Implementation will then take longer and probably never be complete. We have to constantly think about adaptations and changes. It is important that no one thinks that we will change something now and that these innovations will last for the next 150 years. Screws that need to be readjusted should not be overlooked. For this reason, ongoing development and monitoring are being undertaken.
That sounds like a lot of change over the next few years. To what extent will the program specifically affect the University students and staff? What do they have to be prepared for?
Brönnimann: For students, "Fit for Future" will take the form of more attractive programs and teaching formats. But that takes time. We employees are all affected, but we are also already in the middle of change. For example, the Modern IT Workplace project from the digitalization strategy is changing how teams work in the way they store and communicate data.
Leumann: There has always been change and fundamental transformation for employees. However, it's important to mention that we're not carrying out this exercise to reduce staff. We want to be well prepared and position ourselves in such a way that we can continue to live up to our claim of being one of the top universities in the world.
If I'm interested, can I also participate directly in "Fit for Future" and help shape the university?
Leumann: That is, of course, possible in principle. However, not everyone needs to be directly involved in a project. People with wishes and ideas can push them in their close working environment, because the close environment will have a representative in a project group.
And what is important to you personally in the context of this project? How do you see the future of the University?
Brönnimann: From the inside out, I think it is important that the University of Bern is and remains a place where people enjoy working, studying, teaching, researching, providing services or doing administrative work. If we reach our goal of the public regarding the University of Bern as an attractive place and employer, we will be in a good position to ensure we still exist 50 years from now.
«I think it is important that the University of Bern is and remains a place where people enjoy working, studying, teaching and researching.»
Markus Brönnimann
Leumann: From the outside looking in, we as an University also have the task of contributing to the development of society and prosperity. Twenty years from now, there will still be the current challenges such as global conflict situations, climate change and medical care. Artificial intelligence is also a topic with great disruptive potential. We have identified the framework for these and other challenges of the coming years. Now we are not really doing anything other than creating the best possible conditions in the university's operations and structures to deal with these topics properly. After all, we don't want to fail at these challenges just because we haven't done our homework properly.
About the "Fit for Future" program
The University of Bern is facing major challenges. Some of the building infrastructure is outdated or will soon be inadequate, digitization is changing the demands on teaching, research and collaboration, and the disagreements between Switzerland and the EU are having a direct impact on Switzerland as a center of science.
The university management therefore approved a major program for the development of the University of Bern entitled "Fit for Future".
More about the project, the methodology, a list of participants and current developments can be found here on the project website.
The online magazine of the University of Bern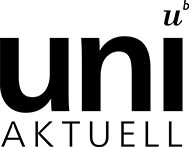 Subscribe to the uniAKTUELL newsletter
The University of Bern conducts cutting-edge research on topics that concern us as a society and shape our future. In uniAKTUELL we show selected examples and introduce you to the people behind them – gripping, multimedia and free of charge.