Geography
The new guest workers are digital and multi-local
Since the pandemic, many of us have found it totally normal to set up the office at the kitchen table on a daily basis. It is also popular to travel to the mountains for two or three days in order to work on issues in peace. It is still unclear how advantageous the new guest workers are for the mountain regions.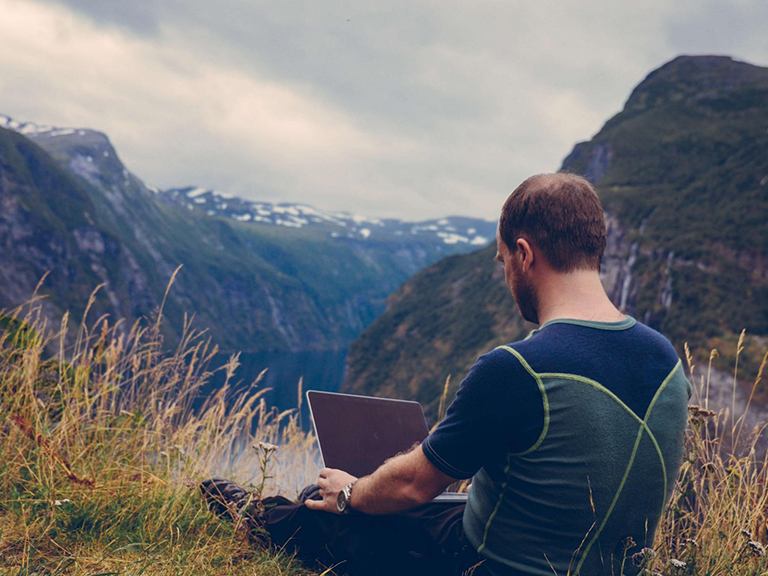 If your work involves a lot of concentration, you have to ventilate your brain from time to time. In a city office, a visit to the coffee machine or a quick cigarette may help. But you've really got it good if you work in a scenic, inspiring mountain environment: Doesn't a fifteen-minute walk automatically conjure up new ideas on your screen? And if you don't have to squeeze into an overcrowded tram in the evening, but instead can enjoy the sunset over the Alps, you're bound to be more efficient the next day. During the lockdown, we were envious of colleagues who grabbed their laptop and moved into their second home in the mountains. When the obligation to work from home was lifted and schools reopened, some of these privileged people had come to appreciate their second workplace. And they continue to use this relative seclusion, combined with strong Internet, every now and again for a few days or even a long weekend.
The holiday home is also an office
Reto Bürgin describes what has proven its worth for many in practice and is now part of a fixed way of working as "digital multi-locality": In his dissertation from 2021, he analyzes urban-rural relationships in the context of digital change and digital multi-locality in Swiss Alpine regions. Bürgin is not only investigating the functioning of semi-public office workplaces such as co-working spaces, that have now emerged in many peripheral small towns and villages. He also illustrates the possibilities of moving a workplace to the mountains for days at a time. Switzerland has the best conditions in this regard: You can reach almost anywhere in Switzerland within three hours from the major cities by train, bus or private car. And our country is one of the world's leading providers of broadband Internet connectivity.
By no means feasible for everyone
In theory, this digital multi-locality, i.e. being digitally active in different places where you can also work, is possible for every second person of working age. Since the pandemic, the share of employees who work remotely is even likely to have increased. Nevertheless, most will continue to work from home for one or two days in the "traditional" way rather than in an Alpine home. "With family responsibilities, it is very challenging to cover a considerable distance for work every week," says Bürgin. For a sub-project in his dissertation, he interviewed six people in detail about their digital multi-locality, tracked the geographic and temporal data as well as the programs used, and linked the results to their location. In addition, there was a space-time diary, interview and participatory observation. Two of the participants had children under the age of 18 – caring for them required a lot of planning. "Since I have had two small children myself, I have understood how complicated it is to organize such a break from the office and home," explains Bürgin. The situation is similar for employees who care for elderly people in their free time.
A further limitation arises when it comes to accommodation. Hardly any employer will cover the cost of board and lodging if there is no reason for employees to be physically present in the mountains. So Alpine guest workers need to have their own holiday home or the opportunity to stay with friends or acquaintances. And this in turn restricts the group of people to a more privileged clientele.
People are looking for seclusion rather than exchange
But why is there any need to escape to 2,000 meters above sea level? "Certain co-working spaces used to advertise that mountain air makes you creative and literally gives you a far-reaching view," explains Bürgin. In fact, the opposite is true: Creativity needs a team, and the team is usually in the office in the lowlands. Staying away from the disruptions of day-to-day office life is therefore more suitable for working on pending issues with great concentration (see the box below).
Office vs. Mountains
Concentration or Creativity
New surroundings, new inspiration - in the mountains, creativity comes easily, you might think. But the surveys conducted as part of Reto Bürgin's dissertation, which was supported by the Swiss National Science Foundation, come to a different conclusion: creativity results from personal encounters in a team. Those who hatch plans, argue and search for the best solution together find new ideas and develop innovative projects.
The retreat into self-imposed isolation in the mountains then serves rather to work through these tasks and other pending issues. You can read and write e-mails and take phone calls, but you are not distracted by physical contact with colleagues. One abstains from meetings or at most participates virtually. To recover from concentration, an attractive, unusual landscape beckons just outside the office. This improves performance even more.
Employers have to make sure that working from a distance doesn't take away from creativity and causes the team to drift apart. In order to create a sense of unity again, a retreat with the entire staff may help - for example in the mountains: In such a setting, one works differently, interrupts the creative phases with unfamiliar things and benefits from the unusual environment.
When the lowlanders arrive on Wednesday evening and close their laptops on Friday evening, they may have sniffed some Alpine air and perhaps stowed a local souvenir in their luggage. But to what extent do they feel connected to their temporary place of work? Heike Mayer, Professor of Economic Geography, sees room for improvement: "Anyone who deliberately travels to outlying areas to work is hardly looking for an exchange with the locals and is not interested in their environment." In order to compensate for this shortcoming, the local community should take action and draw attention to itself and what it has to offer.
The consequence of this may, but does not necessarily mean that the municipality itself operates a co-working space. It is already helpful if other services are also on offer. This might be a booking package of workplace and accommodation for those who don't simply retire to their second home. Bespoke recreation facilities are also useful for guests who have little time to enjoy the benefits of Alpine nature between their work blocks. Or you can advertise hairdressers and masseuses to boost the local value added by commuters. But the "digital multi-locals" may not be looking for an organized pastime, but rather appreciate the seclusion and thus the freedom that has become so rare in the city.
The co-working space as a stopover
Co-working spaces are predestined for trying out new ways of working. The one planned in Glarus South is going to be situated in a property that will also house a health practice and a multigenerational housing project. This will allow people to combine work with a doctor's visit or make new contacts "en passant".
«Creativity needs a team, and the team is usually in the office in the lowlands.»
Reto Bürgin
Conversely, the mountain population themselves can benefit from the digital possibilities by continuing to live in the Alps and, for example, traveling to the company headquarters in the Swiss Plateau for two days a week. This is a form of working practised by one of the people accompanied by Bürgin. "She uses collective working as an opportunity for creative meetings, and then works on new tasks in her home village undisturbed by meetings and interruptions." The co-working space in Meiringen is somewhere in between: It serves as a close external office for many who live on the outskirts of Bern and want to shorten the journey to the federal capital.
The Institute of Geography's next research project aims to investigate where the digital journey in the mountains is headed. It will compare the very different approaches to the development of multifunctional hubs that are being pursued by projects in Glarus South, Surselva, La Punt (GR) and Albinen (VS). "It is already clear that multi-local working and living allows us to be mobile more often and over longer distances," admits Heike Mayer. Space requirements are also tending to increase. This is because buying a second home becomes more attractive if it can also be used as a second office. "But other drivers are more important for the holiday home boom," says Mayer. It is now up to the mountain areas to value the advantages of the landscape in monetary terms. If the new guest workers are involved, it is not only they who benefit, but also the communities – from the exchange of knowledge and increased value creation.
New magazine uniFOKUS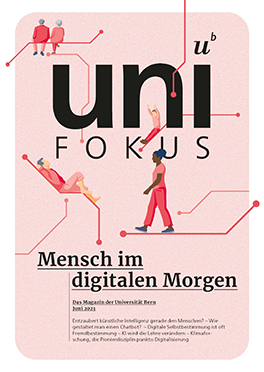 Subscribe free of charge now!
This article first appeared in uniFOKUS, the new University of Bern print magazine. Four times a year, uniFOKUS shows what academia and science are capable of. Thematically, each issue focuses on one specialist area from different points of view and thus aims to bring together as much expertise and as many research results from scientists and other academics at the University of Bern as possible.
The online magazine of the University of Bern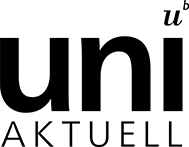 Subscribe to the uniAKTUELL newsletter
The University of Bern conducts cutting-edge research on topics that concern us as a society and shape our future. In uniAKTUELL we show selected examples and introduce you to the people behind them – gripping, multimedia and free of charge.