Veterinary medicine
"We don't just need sharp minds – we also always need hiking boots"
Whether blindness in chamois or heart abnormalities in lynxes, diseases found in wildlife shape the professional life of Marie-Pierre Ryser. Good collaboration with equally passionate project partners and the balance in nature help the Head of the Wildlife Division at the Vetsuisse Faculty to deal with the immense workload.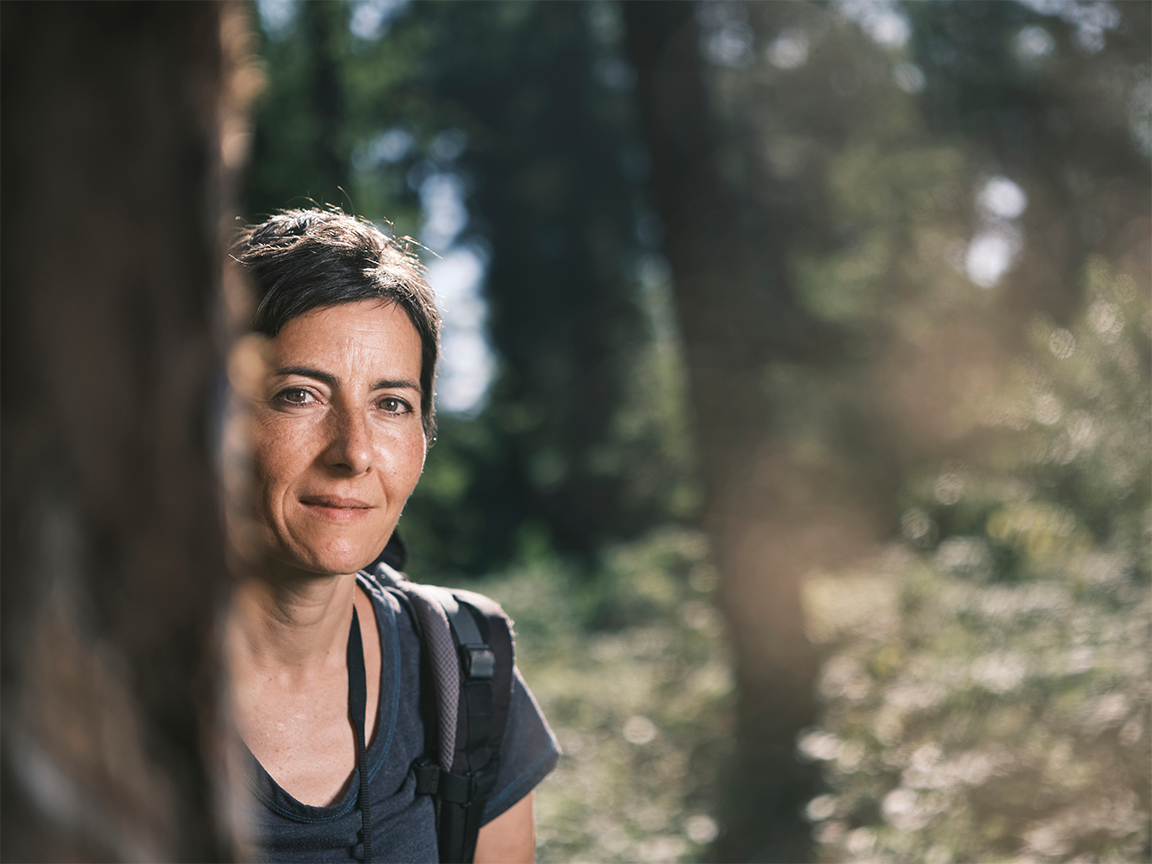 Ms Ryser, how would you explain your work to a child?
Marie-Pierre Ryser: We investigate whether animals living in the great outdoors are healthy. What's more, we identify the causes of disease. Our aim is always to protect and improve health – the health of wild animals, of pets and ultimately of people, too. To put it in a nutshell, it is "interdisciplinarity with a touch of adventure".
Was it a spirit of adventure that led you to choose this particular field of research?
That was certainly important, yes. I grabbed an opportunity that arose towards the end of my studies. For my dissertation, I was looking for a topic that would not keep me in the lab all day but that would get me out into the field. And I was given the opportunity to investigate various aspects of blindness in chamois. Alongside the research, I also had diagnostic tasks to take care of in wildlife pathology. In the section room, I didn't just come across chamois but also lots of other wildlife that I had otherwise only heard about as a city dweller. The highlight was when they brought in a lynx. "Wow, this kind of animal is actually living in our forests!" During my fieldwork, I came across several live lynxes. These experiences certainly shaped my career path. I discovered a new world. And that convinced me to specialize in wildlife as opposed to continuing with classic veterinary medicine.
What characterizes your field of research?
Wildlife health is very practice-oriented: If we are faced with an unresolved question, we explore it in a multidisciplinary way and strive to define recommendations for practice. An example of this is a new emerging disease occurring in both wild and domestic animals where the question is whether it originates from pets or rather from wild animals – and how to prevent it.
And what difficulties do you face in your everyday working life?
If you want to put it in technical terms, accessing "test material". In nature, free-roaming wild animals move in habitats that are inaccessible to us. And that means one of the typical challenges we face is getting samples in sufficient quantity and quality to be able to make a clear statement. Another problem is that lots of diagnostic techniques were developed for domestic pets. If we use them for wild animals, the results are not always reliable. And finally we need data bases obtained in different regions or at different times using the same methods. This is the only way to compare data and identify factors that influence the dynamics of disease. Examples of such factors are global warming and wildlife management methods.
Can you give us an example of that?
Unlike in Switzerland, where it is forbidden, wild ruminants and wild boar are often fed abroad to keep the population high for hunting. This practice promotes conservation and the spread of diseases such as tuberculosis and African swine fever in wildlife populations. And it is possible to tackle this thanks to well-planned international projects.
Which of your research results were exceptional?
An exciting research finding was finding proof that there are healthy carriers of the pathogen of blindness in chamois – in other words, not all infected animals become sick. And this opened up new paths in the study of this infectious disease, also at an international level. I also proved heart abnormalities in lynxes. That led to adjustments in species protection measures: When relocating lynxes, the candidates are selected more carefully to ensure an optimal basis for the populations that are to be founded or strengthened.
Which unresolved question would you like to be able to answer in your field of research in the future?
What really interests me is the role genetics plays in the development of infectious and certain non-infectious diseases as far as the joint evolution of host animal and pathogen is concerned: In the case of wild animals, the weak individuals die, the resistant ones survive and multiply. The pathogen itself mutates constantly, adapts and can thus also once again develop a disease-causing potential.
How important is interdisciplinarity in your work?
It's key. And that is why we work together with colleagues from the Vetsuisse Faculty of the Universities of Bern and Zurich as well as with foreign institutes. In the field, we collaborate with numerous wildlife biologists, gamekeepers and hunters. These are always fantastic opportunities to learn from one another.
Is there an object without which you could not do your research?
Well, your brain is central to probably every kind of research. And in addition, you need partnerships – and hiking boots. And we're not the only ones fastening our hiking boot laces – it's something that in particular all the partners that send us samples and data have to do, too. They are great people who are passionately interested in the subject. I also feel this personal connection at an international level. On the one hand, we are involved in various international projects. On the other, I have positions in several professional associations and working groups. This is where I get to know colleagues whose commitment is similar to ours.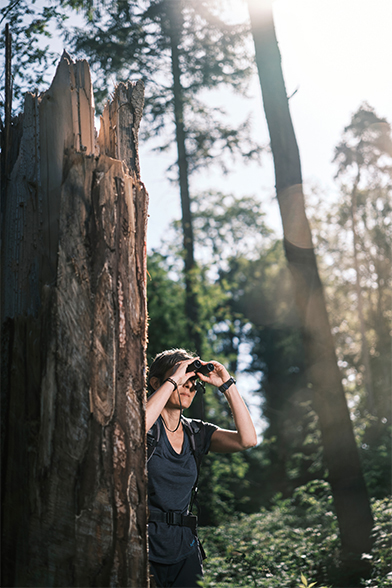 What would you have become had you not been working in wildlife research?
I was always interested in clinical work – whether veterinary science or medicine. But when I talk to former colleagues and doctoral students and hear about the difficulties they have with customers in their everyday work at a veterinary practice, I am so glad I'm doing what I do. When choosing a profession and its particular direction, I listened to my heart and I followed my luck – and I found it.
But is there not still trouble sometimes?
There are two things that really irritate me. We do occasionally get referred to as "sample collectors". That shows a lack of respect and is quite arrogant. Because we find out a lot of things and draw scientific lessons from that. And there are some research partners who are just interested in what's in it for them instead of contributing to the common project goal. And that is incredibly annoying.
Would you recommend your work to young people?
Working outdoors in nature is incredibly fulfilling. But that part of it is relatively small and the workload is considerable because projects overlap. Although it has to be said that it is in part our own fault because for many of us work has become a passion. And that means that at the end of the day you are rarely actually finished your tasks. It's not often I can just enjoy a free evening after work – I keep going over current projects in my mind or I even continue to work on them. I compensate for that with riding and swimming, doing some handicrafts like pottery and just being in the great outdoors. Last but not least, I love traveling to discover natural areas and meet friends. That helps me to recharge my batteries.
About
Marie-Pierre Ryser
New magazine uniFOKUS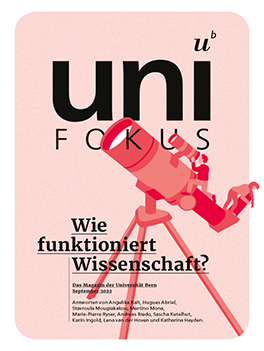 Subscribe free of charge now!
This article first appeared in uniFOKUS, the new University of Bern print magazine. Four times a year, uniFOKUS shows what academia and science are capable of. Thematically, each issue focuses on one specialist area from different points of view and thus aims to bring together as much expertise and as many research results from scientists and other academics at the University of Bern as possible.